Through the Great Hsia. After a good Sunday tiffin in Nienpai. The inevitable Moslem sign over Dr. Z.'s head.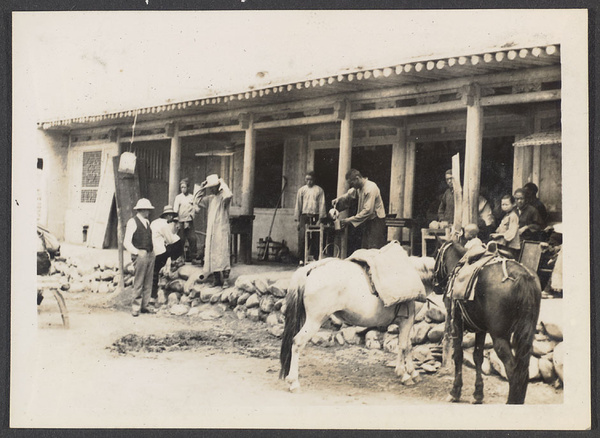 Collection
Copyright
© President and Fellows of Harvard College
Notes
Historical Photographs of China album reference: Hv44. Dr. Samuel M. Zwemer's visit to China, part 1. First part of an album containing photographs taken by Christian missionaries Claude L. Pickens, Jr. and Carter Holton. General note: Excerpt from unpublished photo essay, plate 6: "A typical Moslem inn along the highway between Kaolan and Sining. That it is Moslem one knows by the sign of the teapot hanging just over the head of Dr. S. M. Zwemer in the pith helmet. These inns throughout China assure a Moslem traveler of "kosher" food. They most often excel in cleanliness and service over their purely Chinese rivals." Access to original photographs and albums in the Rev. Claude L. Pickens, Jr. Collection is restricted. Photographs and images from the collection may be reproduced only with written permission. Contact the Harvard-Yenching Library for permissions and fees.
Location
Photographer
Media
Black and white photograph
Repository
Harvard-Yenching Library, USA